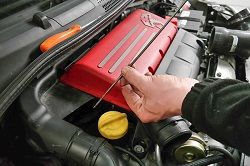 Abarth "How To..." Workshop Guides
These guides serve as an introduction into various Abarth maintenance tasks and are designed to give Abarth owners a better understanding of what work is involved. They aren't full Abarth Romeo workshop manuals, where you will find the official techniques, technical specs and important safety considerations.
As we get time, we will be building up our workshop guides over the next few months into what will hopefully be an extensive library. You can start by having a look through the our Diagnosis Pages (first links) which link through to the rest of the "How To..." pages, or click on you model, or you can go straight to the guide by selecting from the rest of the list below.
By Model: 500
Brakes & steering
Abarth 500 rear brake pads and discs replacement.

Engine
Abarth 500 cam belt replacement

Engine management
Abarth 500 spark plug removal

Exterior Bodywork
124 Wing mirror removal

Filtration
Abarth 500 oil and filter change
Abarth 500 air filter change

Gearbox
Abarth 500 drive shaft removal

Other